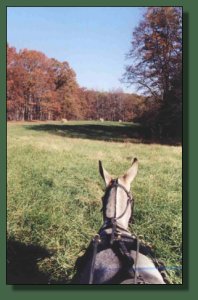 Driving, both for pleasure and in competition at shows, is one of the most enjoyable aspects of owning miniature donkeys. The minis are very easy to train and seem to really enjoy being driven. Cedar Creek Farm has lots of open and wooded trails, creeks and bridge crossings, so our donkeys see a lot of different terrain, which keeps them from getting bored.

A well-conditioned adult mini can pull two adults in a cart as long as the terrain is not excessively steep or the footing too deep. Taking a drive with a friend is a great way to relax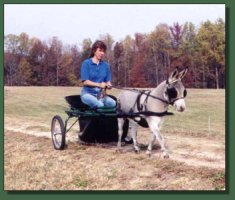 after a stressful day. If you want to take more passengers along, just hitch two minis together and drive a pair to a miniature buggy or wagon.
Driving donkeys is an activity the whole family can enjoy. Most kids love to drive donkeys, and with proper supervision, a well trained donkey is safe for children.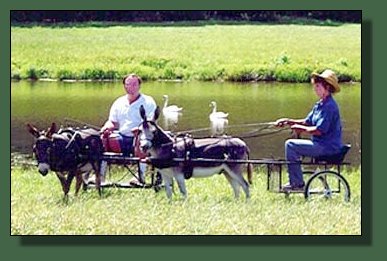 For those who enjoy the challenge of competition, there are a variety of driving classes offered at most shows. We show our donkeys at mule and donkey shows as well as driving shows for horses. The mule and donkey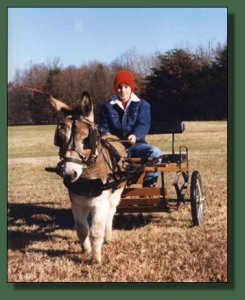 shows are a fun place to learn about driving and showing donkeys. Most American Driving Society shows (for horses) are more formal and structured than donkey shows but many will allow donkeys to compete (with permission) as long as the rules concerning attire and vehicles are observed. It is especially challenging to compete against horses and very satisfying to win or place at these shows. However, whether we win or lose at the shows, being able to see and talk with our friends makes it all worthwhile!